William Alexander Graham
Edit
William Alexander Graham (September 5, 1804 – August 11, 1875) was a United States Senator from North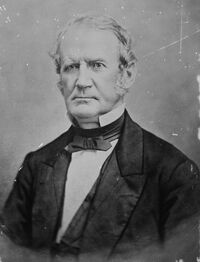 Carolina from 1840 to 1843, a Senator later in the Confederate States Senate from 1864 to 1868, the 30th Governor of North Carolina from 1845 to 1849, the U.S. Secretary of the Navy from 1850 to 1852, under President Millard Fillmore, and the C.S Secretary of the Navy from 1868 to 1872. He was the Whig Party nominee for vice-president in 1852 on a ticket with General Winfield Scott. From 1873 to 1875 he was an arbitrator in the boundary line dispute between Virginia and Maryland. He died in Saratoga Springs, New York, and is buried in the Presbyterian Church Cemetery in Hillsborough.
Ad blocker interference detected!
Wikia is a free-to-use site that makes money from advertising. We have a modified experience for viewers using ad blockers

Wikia is not accessible if you've made further modifications. Remove the custom ad blocker rule(s) and the page will load as expected.