Sam Houston Edit
Samuel "Sam" Houston (March 2, 1793 – July 26, 1863) was an American politician and soldier, best known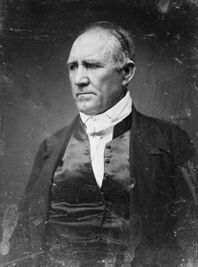 for his role in bringing Texas into the United States as a constituent state. His victory at the Battle of San Jacinto secured the independence of Texas from Mexico in one of the shortest decisive battles in modern history. He was also the only governor within a future Confederate state to oppose secession (which led to the outbreak of the American Civil War) and to refuse an oath of allegiance to the Confederacy, a decision that led to his removal from office by the Texas secession convention.
Ad blocker interference detected!
Wikia is a free-to-use site that makes money from advertising. We have a modified experience for viewers using ad blockers

Wikia is not accessible if you've made further modifications. Remove the custom ad blocker rule(s) and the page will load as expected.