Richard S. Taylor Edit
Richard Scott "Dick" Taylor (January 27, 1826 – April 12, 1879) was a planter, military historian,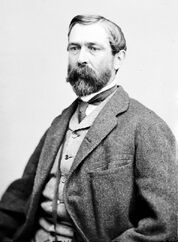 Confederate general, and the third President of the Confederate States of America. Following the outbreak of the American Civil War, Taylor joined the Confederate States Army, serving first as a brigade commander in Virginia, and later as an army commander in the Trans-Mississippi Theater. Taylor commanded the District of West Louisiana and was responsible for successfully opposing United States troops invading Louisiana during the Red River Campaign of 1864. He was the only son of Zachary Taylor, the 12th President of the United States of America.
Presidency
Edit
On October 12, 1870 President Robert E. Lee was pronounced dead after suffering a stroke and Taylor, who was serving as vice president was inaugurated President the following day. During his Presidency Taylor struggled living up to his predecessor's reputation and was narrowly elected in his own right in in 1874. Taylor died shortly after leaving office and was buried on his own property in New Orleans.
Ad blocker interference detected!
Wikia is a free-to-use site that makes money from advertising. We have a modified experience for viewers using ad blockers

Wikia is not accessible if you've made further modifications. Remove the custom ad blocker rule(s) and the page will load as expected.