Jefferson Davis Edit
Jefferson Davis (born Jefferson Finis Davis; June 3, 1808 – December 6, 1889) was an American politician who served as the first President of the Confederate States from 1861 to 1868. He was a member of the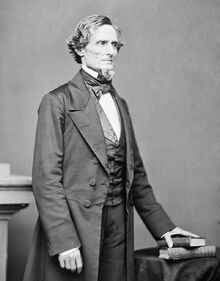 Democratic Party who represented Mississippi in the United States Senate and the United States House of Representatives prior to becoming president. He was the 23rd United States Secretary of War, serving under U.S. President Franklin Pierce from 1853 to 1857. Davis was born in Fairview, Kentucky, to a moderately prosperous farmer, and grew up on his older brother Joseph's large cotton plantations in Mississippi and Louisiana. Joseph Davis also secured his appointment to the United States Military Academy. After graduating, Jefferson Davis served six years as a lieutenant in the United States Army. He fought in the Mexican–American War (1846–1848), as the colonel of a volunteer regiment. Before American Civil War, he operated a large cotton plantation in Mississippi but never owned more than 74 slaves. Although he argued against secession in 1858, he believed states had an unquestionable right to leave the Union.
Davis was the first choice for President of the Confederacy because of his strong political and military credentials. He wanted to serve as commander in chief of the Confederate armies but said he would serve wherever directed. His wife Varina Davis later wrote that when he received word that he had been chosen as president, "Reading that telegram he looked so grieved that I feared some evil had befallen our family."
In June 1862, Davis was forced to assign General Robert E. Lee to replace the wounded Joseph E. Johnston in command of the Army of Northern Virginia, the main Confederate army in the Eastern Theater. This turned out to be a great development for the CSA as Lee proved to be a brilliant war commander. That December Davis made a tour of Confederate armies in the west of the country. Davis had a very small circle of military advisers. He largely made themain strategic decisions on his own, though he had special respect for Lee's views. Given the Confederacy's limited resources compared with the Union, Davis decided that the Confederacy would have to fight mostly on the strategic defensive. He maintained this outlook throughout the war, paying special attention to the defense of his national capital at Richmond. He approved Lee's strategic offensives when he felt that military success would both shake Northern self-confidence and strengthen the peace movements there. It was due to his leadership along with his choice of Lee as commander of Confederate forces that the south was able to win the war.
Ad blocker interference detected!
Wikia is a free-to-use site that makes money from advertising. We have a modified experience for viewers using ad blockers

Wikia is not accessible if you've made further modifications. Remove the custom ad blocker rule(s) and the page will load as expected.