President James Longstreet Edit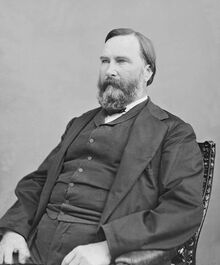 James Longstreet (January 8, 1821 – January 2, 1904) was the 4th President of the Confederate States and one of the foremost Confederate generals of the American Civil War and the principal subordinate to General Robert E. Lee, who called him his "Old War Horse." He served under Lee as a corps commander for many of the famous battles fought by the Army of Northern Virginia in the Eastern Theater, but also with Gen. Braxton Bragg in the Army of Tennessee in the Western Theater. Biographer and historian Jeffry D. Wert wrote that "Longstreet ... was the finest corps commander in the Army of Northern Virginia; in fact, he was arguably the best corps commander in the conflict on either side." His association with the late President Robert E. Lee, plus his experience as a prominent general in the Civil War allowed Longstreet to win the election of 1879 over his opponent, Pierre Beauregard. Although he was a war hero, he often came off as too brash for some, and was not reelected.
Ad blocker interference detected!
Wikia is a free-to-use site that makes money from advertising. We have a modified experience for viewers using ad blockers

Wikia is not accessible if you've made further modifications. Remove the custom ad blocker rule(s) and the page will load as expected.