James Buchanan Edit
James Buchanan, Jr. (April 23, 1791 – June 1, 1868) was the 15th President of the United States (1857–61),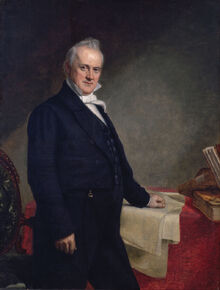 serving immediately prior to the War of Southern Independence. He is the only U.S. president from Pennsylvania, the only president to remain a lifelong bachelor, and the last president born in the 18th century. A member of the Democratic Party, he was the 17th United States Secretary of State and served in the United States Senate and United States House of Representatives. Shortly after his election, Buchanan lobbied the Supreme Court to issue a broad ruling in Dred Scott v. Sandford, which he fully endorsed as president. He allied with the South in attempting to gain the admission of Kansas to the Union as a slave state under the Lecompton Constitution. In the process, he alienated both Republican abolitionists and Northern Democrats, most of whom supported the principle of popular sovereignty in determining a new state's slaveholding status. He was often called a "doughface," a Northerner with Southern sympathies, and he fought with Douglas, the leader of the popular sovereignty faction, for control of the Democratic Party.
Post Civil War and Death
Edit
Like Fillmore, President Buchanan was late to support the Confederacy, however he began take their side as the war progressed. He officially announced his support for the Confederate States in 1865, and pushed for his home state of Pennsylvania to join the Confederacy. Buchanan caught a cold in May 1868, which quickly worsened due to his advanced age. He died on June 1, 1868, from respiratory failure at the age of 77 at his home at Wheatland and was interred in Woodward Hill Cemetery in Lancaster.
Ad blocker interference detected!
Wikia is a free-to-use site that makes money from advertising. We have a modified experience for viewers using ad blockers

Wikia is not accessible if you've made further modifications. Remove the custom ad blocker rule(s) and the page will load as expected.