Howell Cobb Edit
Thomas Howell Cobb (September 7, 1815 – October 9, 1868) was an American and Confederate political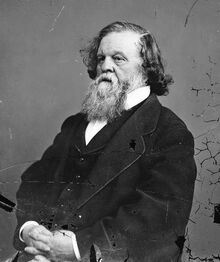 figure. A southern Democrat, Cobb was a five-term member of the United States House of Representatives and Speaker of the House from 1849 to 1851. He also served as a Secretary of Treasury under President James Buchanan (1857–1860) and the 40th Governor of Georgia (1851–1853). He is, however, probably best known as one of the founders of the Confederacy, having served as the President of the Provisional Congress of the Confederate States, in which delegates of the Southern states which had declared that they had seceded from the United States created the Confederate States. Under Cobb's guidance, the delegates drafted a constitution for the new Confederacy. He served as President of several sessions of the Confederate Provisional Congress, before resigning to join the military when war erupted.
Post Civil War Career and legacy
Edit
Following the end of the Civil War, Cobb returned home and resumed his law practice. He was elected President of the newly formed Confederate Congress in 1868, and served until his death the same year. Cobb's reputation as a soldier, statesman, and early supporter of southern independence had earned him a spot as one of the original founders of the Confederate States of America.