David T. Patterson
Edit
David Trotter Patterson (February 28, 1818 – November 3, 1891) was a United States Senator from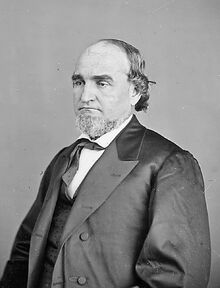 Tennessee post Civil war. David Trotter Patterson was born at Cedar Creek, near Greeneville, Tennessee, on February 28, 1818. He attended the common schools and later Greeneville College for two years. He "read the law" with a local attorneys' office to prepare for the bar. A moderate from East Tennessee, Patterson was elected into the U.S. Senate when Tennessee first became a Confederate state. He ran as an independent in 1879 but lost the election to General James Longstreet. Patterson retired from public life after deciding not to run for senate again in 1886. He returned to East Tennessee to manage his relatively vast agricultural interests. On November 3, 1891, Patterson died in the small community of Afton. He was interred with the Johnson family in the Andrew Johnson National Cemetery in Greeneville.
Ad blocker interference detected!
Wikia is a free-to-use site that makes money from advertising. We have a modified experience for viewers using ad blockers

Wikia is not accessible if you've made further modifications. Remove the custom ad blocker rule(s) and the page will load as expected.