Alexander H. Stephens Edit
Alexander H. Stephens (born Alexander Hamilton Stephens; February 11, 1812 – March 4, 1883) was an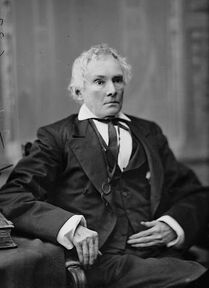 American politician from the state of Georgia, and the first Confederate vice president. His Cornerstone Speech of March 1861 defended states rights in the most uncompromising terms. In the course of the war, he became increasingly critical of Confederate President Jefferson Davis's policies, especially conscription and the suspension of habeas corpus. Despite conflicts with Davis, Stephens remained vice president until the end of Davis's term. Following his vice presidential career, Stephens returned to Georgia politics and was elected Governor for two terms, before resigning to become the Secretary of State under Richard Taylor's administration. Stephens died in retirement in 1883 due to stomach illness.
Ad blocker interference detected!
Wikia is a free-to-use site that makes money from advertising. We have a modified experience for viewers using ad blockers

Wikia is not accessible if you've made further modifications. Remove the custom ad blocker rule(s) and the page will load as expected.